---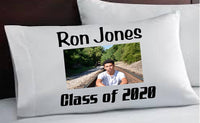 Want to support a Packer graduate? Here's a great way to let your Senior know you are proud of them!  
INSTRUCTIONS:  Please send picture to shspackerbackers@gmail.com.  Images will be printed exactly as sent, we are unable to make adjustments or photoshop.
About the design? Our Sublimation Designs are made with top quality inks so they absorb into the pillowcase to prevent cracking.  Most sub designs have a slight vintage look to them since they are printed into the pillowcase. Since ink is absorbed by the pillowcase it will take on the color of the pillowcase somewhat giving you a different look based on pillowcase color.  So the darker the pillowcase, the darker the design will look. Designs are normally standard adult size (9-11 inches) depending on proportionality.  
**Based on your computer monitor color codes and resolution of digital images and pictures, colors and designs size may vary slightly."